The DugOut

The DugOut is a turf-roofed, handcrafted earthhouse in a secluded spot next to our woodland. Like the Big House, the DugOut has sensational views. It is very special to us as it was our home for ten years whilst Ed was building and crafting the Big House and it is a pleasure to share this unique retreat with our guests. The DugOut is nestled snugly into the hill looking south over its own private garden and lawn to a fabulous far-reaching view taking in three counties. Whether you are soaking in the bath whilst taking in the view, curled up by the fire reading a book or eating alfresco on the terrace, we are confident you will enjoy the privacy and tranquility of the Dugout.
Many of the ideas and techniques used in the Big House were trialled first in the DugOut: the cut stone floor, the woven wood lattice, shaved hedgerow timbers and wandering organic curves wherever you look.
The DugOut also has many of its own fun and unique parts: the pulley light switches, copper and zinc piping, a bath encased in books and a roundwood, chestnut king size bed, shaped to fit the contours of the round bedroom.
Ed has put literally thousands of hours into working and fashioning almost every single aspect of the DugOut. It is a complete one-off!
Woodwork & Smallholding Workshops
We have had lots of people asking about 'doing' things when they come to stay. So we have decided to run optional craft workshops and smallholding sessions.
Woodwork
This two-hour craft workshop is an introduction to the woodworking techniques and practices used by Ed to shape many of the things that you will see around you when you come to stay. The tools you'll be using will predominantly be the froe, for splitting the round wood timber and the draw knife and in-shave for cleaning and shaping. Working wood in this way is fun to do and extremely rewarding.
The workshop can be tailored to suit absolute novices through to experienced woodworkers. One or both of our guests are welcome to join in on this course.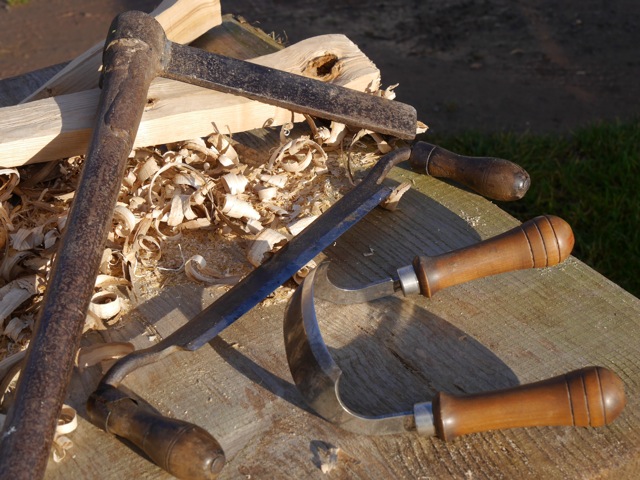 Smallholding
The two-hour session led by Rowena will give an overview of how and why things are done on our smallholding.
The two hours can be tailored to suit. It might be that you would like to walk around all the animals, learn about them and how they are looked after. You might want your session to be all about the care and management of Shetland sheep or simply helping to tend part of the garden. Maybe you have a dream to groom Looby, the pony and to then go for a walk down the lane with her. We can make the course into whatever suits you. One or both of our guests are welcome to join in on this course.
We can be flexible on both the day and the timings of these sessions, within the period of your stay.
The woodworking session and the smallholding session each cost £50. This price is the same whether for one or two people.
When booking a stay at the DugOut, please express your interest in signing up for a session by writing in the message box.
As we always get in touch a few weeks before your stay, this is another time you can express interest in signing up for a session.
Payment will be taken on the day of the session.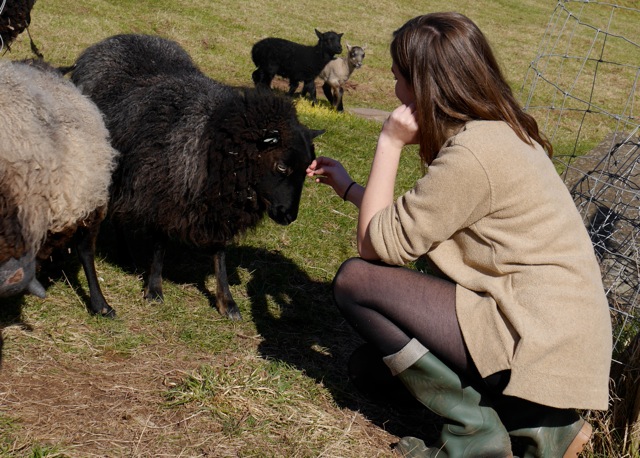 Prices
The DugOut is available all year round.
Spring & summer & bank holidays £275/night (April 18-September 30).
Autumn & winter excluding bank holidays £195/night (October 1-April 18).
It is self-catering accommodation for two people with a two-night minimum stay midweek and a three-night minimum stay at weekends.
A two-night weekend stay may be possible to arrange by contacting us at ask@lifeonthehill.co.uk.
Changeover days are Mondays, Wednesdays and Fridays, so your stay would start and end on one of these days.
Arrival time is after 3pm and departure time is by 11am
Check availability
If you would like to book the DugOut, please select your dates and fill in the form below. Payment is by credit or debit card. Please ensure you have left us the correct contact details so we can get in touch before your stay.
If you have any questions regarding a stay, you can contact us at ask@lifeonthehill.co.uk and we will do our best to respond within 24 hours
Tump Shop
We aim to provide for most of your 'foodie' needs in our Tump Shop. Homemade meals to pop in the Everhot, artisan bread, dairy produce, eggs, seasonal vegetables and salads etc. A full shop list with prices will be sent to you before your stay.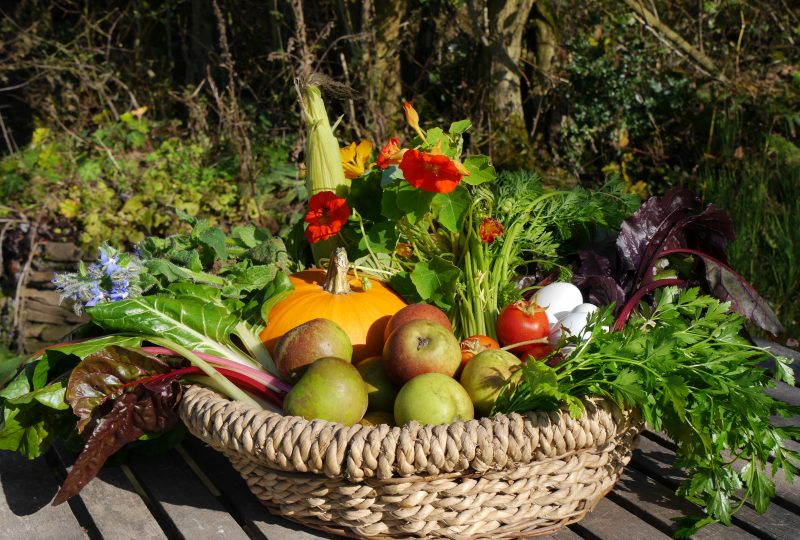 The Clean House Effect
The DugOut is unconventional and has been constructed with an emphasis on avoiding all materials liable to 'chemical off gas'. In addition, the electromagnetic fields in the body of the house have been kept to an absolute minimum.
The DugOut is not reliant on wireless devices and you can choose whether wireless systems are switched on or off for part or the whole of your stay.
All house cleaning products are made from plant extracts from sustainable sources. Please try the handmade soaps which are provided for your stay.
A landline phone is available in the DugOut so that you can choose your callers. This means that you can turn off your smart phone for an hour, a day or the period of your stay, knowing that you can be reached by family, friends or work if absolutely necessary via the DugOut phone.
Essential bits to know
The DugOut is self-catering accommodation for two people.
Kitchen: Everhot stove, microwave and kitchen equipment. Condiments and treats from us as a gift on your arrival.
Boot room: Fridge/freezer, washing machine/dryer.
Sitting room: Wood burner and a large basket of logs. (Extra logs are always available). Optional WiFi, sound system, flat screen/DVD discretely placed.
Bedroom: King size bed with all linen provided.
Bathroom: Loo, basin and shower. Bath sheets, bath towels, hand towels and handmade soaps provided.
Library/Bathroom: Double ended roll top bath and books!
Outside: There is a private garden. On the terrace there is garden furniture, barbeque and fire-pit.
Parking: There is secure parking next to the garden path that leads to the DugOut.
We are sorry that we can not accommodate dogs or children at the moment.
"Ed and Rowena magically integrate craft with everyday life "
Kevin McCloud, Grand Designs
"I fell in love with this wonderful hidden gem, you won't want to leave!"
Tasha Krestova, Artist
"Being here will bring out the very best in you. Step out of time, relax and be inspired as you immerse yourself in the beauty and creativity that surrounds and inhabits the house. This is so much more than a 'Grand Design'."
Steve & Jill, Family Friends